This story was first published on Monday, November 9 2020 in Emergency Physicians Monthly.
By MICHAEL SILVERMAN, MD.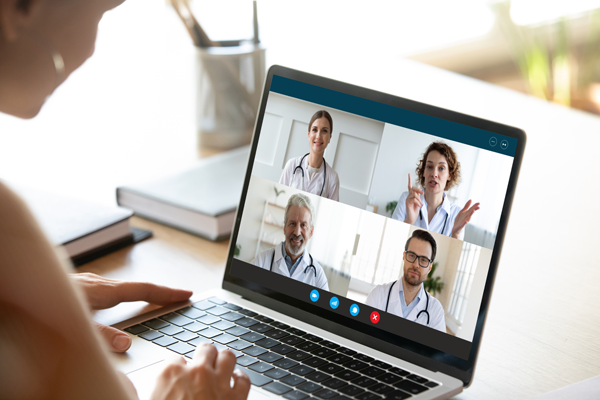 Retention interviews help to build trust between managers and their docs.
Dear Director,
Between meetings not taking place in person and a lack of social interaction, I'm feeling really disconnected from my doc team. As a chair, I relied on those interactions to check in with everyone. How can I do it in today's climate?
It's important as a chair to connect with our teams on a regular basis. It's how we provide information and keep the culture intact. I've probably been most successful in moving group culture and metrics when I've had fairly regular one-on-one meetings with my docs.
When I'm announcing to the group that I'll be setting up formal, scheduled meetings, I find it valuable to have a purpose to keep some consistency throughout the meetings. I've written about several techniques to employ when meeting with your team previously, including performance evaluations, 360-degree reviews, and rounding. One technique that I've discovered fairly recently is the "retention" or "stay" interview.
Among our most important responsibilities as chairs or medical directors is to recruit and retain our staff. If you can't do those things well, a leadership position may not be for you. Retention interviews can be used as an opportunity to re-recruit your strongest performers and retain your solid performers.
A performance improvement plan (PIP) meeting, or at least a precursor meeting to that, should be used with your lowest performing docs. Basically, these are one-on-one conversations to see what team members like and don't like before they might even consider moving to another job.
Ultimately, the goal is to reduce turnover but as a manager, these conversations can uncover areas of employee dissatisfaction and possibly chart a course of action to make positive changes in the work environment. Although I include all of my team when setting these meetings up, your low performing docs should have meetings focused around their areas for improvement and/or formal performance improvement plan meetings.
Although most of us go through the annual interview and recruiting process each fall without really knowing what are needs will be the following summer, recruitment is time consuming and expensive. Having a strong core group of physicians is critical for long term ED success.
Established physicians know the hospital community, understand the culture and should have a good grasp of achieving metric success. It's really challenging to turn your team over on a regular basis and expect to be successful. No matter how good someone is, efficiency and relationship building takes time. Retention interviews help to build trust between you and the individual doc, learn about your employee's interests and challenges, and let them know that you appreciate them.
Physicians leave sites for a variety of reasons. Common ones include scheduling issues (I often refer to the scheduler as the most powerful person in the group for retention), lack of development, poor communication and/or leadership and frustration with working in an inefficient ED.
Keeping high performers engaged is critical for their retention. High performers want to know your vision for the ED and where the hospital is headed. They may desire to be more involved and can be given the opportunity through your meeting. This is also the time to ask how you can support them through training or providing opportunities for their growth.
This group may not have a lot of issues at work, but you certainly want to make sure they have the chance to air any grievances, discuss challenges or things they don't like about working at the site. You should specifically ask about what might tempt the doc to leave or look for another job and pay close attention to the answers from your high performing group as these will likely be the first things to work on. We can't always give this group more money, but they should definitely feel very appreciated by the end of the meeting.
Your solid performers will get the same questions as the high performing group, but you'll want to spend a few more minutes on metrics and ask them if they see opportunities for improvement within the ED as well as their own practice. Be specific about what they do well and offer some coaching on other ways to improve.
Consider whether you're trying to retain your lowest performers or coach them to a higher performance level. As you ask the "what might tempt you to leave" question, you may push it a little bit with the low performers and tell them that their performance indicates a lack of engagement, like they didn't care, and were looking to leave.
It really is better to coach someone up to the next level, particularly if you're at a site that is difficult to recruit for or has difficulty retaining physicians. This conversation may provide some background into the doc's situation that you can help them with. Conversely, it may also set the stage for the PIP meeting, which may benefit the group.
Your Action Plan
Retention meetings should be announced and scheduled. An email sent to the group with a request to sign up for a meeting should get you started. You don't need to call it a "retention" meeting, but rather just a semiannual chance to connect and see what's going on with everyone. Timing wise, it's just wise not to do it close to formal performance evaluations, but perhaps as a mid-year check in.
At the start of the meeting, I find it useful to explain the purpose and what to expect. For example, I might tell docs I wanted a chance to connect and to touch base on a variety of things and have a fixed set of questions. None are hard and a couple may be funny.
In a perfect world, retention meetings are held in a comfortable environment. I think one-on-one in your office is fine and if appropriate, I'm not opposed to doing it over lunch for your high performers. But given the pandemic, I also used Zoom and that worked really well. Although I still do a lot of meetings in my office, Zoom made it pretty relaxed and it was much easier for people to schedule.
Plan your questions out ahead of time. There are plenty of examples online of what types of questions to ask—what you really want to know is what motivates high performing employees to stay and what would motivate them to leave. I stuck to a handful that included
What do you like most and least about work?
What would you most like to change?
Where do you want to go professionally within the department?
What would make you consider leaving?
What talents do you have that are not being used/developed in your current role?
I thought it was really important to make sure everyone knew how much I appreciated them and to set that up, the last question I asked was for them to tell me something they were proud of at work. The answers were all over the place ranging from a great procedure success to interactions with nurses and hospitalists. I learned a lot about people and heard about interactions that I was unaware of. After that, I emphasized how much I appreciated their contributions to the department.
Taking notes during these meetings is critical. Universally, my team thought the best part of our ED was either "the team" or "nursing." But the answers to what they like least was a mixed bag and without notes, I'd forget something. You'll have things you want to follow up on and you will also want to give a summary to your team about key findings. I wouldn't expect to put much if anything into anyone's HR file, but anytime you meet with a low performer, it's always a good option to think about.
Conclusion
Retaining your team, particularly your high performers is critical. Using a retention meeting format allows you to re-recruit you docs, assess their risk of leaving and have a thorough conversation with your team. One-on-one coaching and mentoring can also be used to provide feedback and coach improvement. The sessions were really pretty fun and I conducted them over about three weeks for 25 people. But it is after they are done that the real work starts. Go through your notes, find themes and get to work. Provide feedback to your team. Our teams are really our greatest asset and it's critical that you keep the team intact.